The Iconic Picture Circling The Internet That You MUST Know About!
A woman draped in white, a gold moon earring shining from afar, one strong hand raised in the air, passionately leading chants, while she stands on top of a car… By this point, you must have come across this picture on social media.
This iconic photo of a woman leading the crowd has become the face of the protest movement in Sudan. The woman has been identified as Alaa Salah, a 22-year-old architecture, and engineering student in Khartoum.
https://twitter.com/iAlaaSalah/status/1115990035239788544
Just two days ago before the picture spread like wildfire all across social media, thousands of people took charge of streets in Khartoum. This was when this heroic picture was taken. The protests were held for one reason; that was to overthrow the presidency of Omar al-Bashir who has been reigning over the land of Sudan for thirty years now.
The person behind the lens also happens to be a woman and a local photographer, Lana Haroun.
As Alaa Salah stands on top of the car among the sea of people, arm raised and her finger pointing towards the sky, her posture has a religious impact as well. Hailing from an Islamic country, her lifted finger is a symbol for unity and that is what she is trying to achieve as well; gathering forces to stand in the way of Omer al-Bashir.
Women all over the world were filled with joy to see a female leading the revolution grounds. The love and happiness were even celebrated in our homeland, with various feminist pages congratulating her for being the force of change.
https://www.instagram.com/p/BwCzN9KFV91/
What else seems to be impactful is the attire she chose for this occasion. Salah's mother is a fashion designer working with the traditional Sudanese Toub – the name of her attire. The reason her clothing became a symbol for female protestors is because
"The Toub has a kind of power and it reminds us of the Kandakas."
Paying homage to her ancestorial queens of Nubian kingdom of Kush, who ruled much of what is now modern-day Sudan more than 3,000 years ago. Moreover, an interfaith educator and blogger by the name of Hind Makki, further made a comment on the jewelry that she had adorned. She said that the gold moon earrings worn by Salah are traditional bridal jewelry and her entire outfit "is also a callback to the clothing worn by our mothers and grandmother in the 1960s, 70s, and 80s," while revolting against previous military regimes.
Sudanese everywhere are referring to female protestors as "Kandaka," which is the title given to the Nubian queens of ancient Sudan whose gift to their descendents is a legacy of empowered women who fight hard for their country and their rights. ✊🏾

— Hind Makki (@HindMakki) April 8, 2019
Look at this 22-year-old powerhouse leading a sea of people fearlessly!
sudan's statue of liberty😍 pic.twitter.com/vZg4Y6a23w

— M (@wa7da_Anonymous) April 9, 2019
The protests were sparked due to the constant rise in inflation and cashless ATMs. The state has dealt with it with what they call excessive force. At least eight people have been killed in two days (April 6-8th) while many have been teargassed, beaten in the streets or thrown in jails without warrants. Women have been met with sexual harassment and threats of rape. Despite all of this, according to estimates, 70 percent of the protest comprises of women.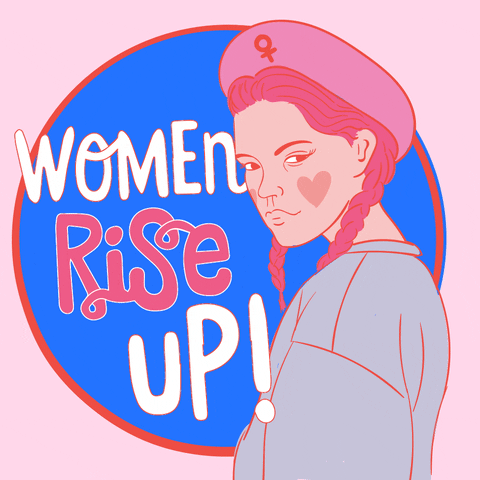 Due to a social media shut down, it has been harder to avail more information but we hope they get what they are fighting for.
More power to you Alaa Salah!